Stained Glass Surprise! - CrewCraft Episode 49 (KYR Season 2)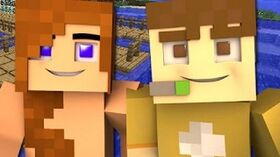 Stained Glass Surprise!
 was an episode of CrewCraft uploaded to KYR SP33DY's channel on the the 19th November 2014. The episode features most members of the crew and is the forty ninth episode of Season 2. The crew start building the dock for the Poptart factory and later find Shadow's 'edit' to the portal room.
Player Appearances
Edit
Sp33dy
Jahova
SideArms
Shadow
NobodyEpic
Deluxe 4 (Streaming)
Used Commands
Edit
This episode broke some unofficial rules of CrewCraft by using the following commands.
/toggledownfall (Shadow)
/ban SideArms (Jahova)