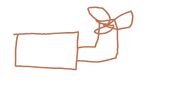 SideArms' house is a building on CrewCraft only featured in Season 2. It is home to SideArms4Reason and is located further away from the rest of the crew beside the mesa. With little help from Speedy, SideArm's house is a building he should be very proud of due to him making the plans and even placing blocks!
The house is made out of various stone bricks with a wooden roof. The house is found on the edge of a cliff in an extreme hills biome with good views of the Mesa. As well as his house there is a small floating farm and a portal to the nether, there used to be a sheep farm with only one sheep surrounded by blocks of dirt making it more of a torture farm.
The interior of the house is quite small with only one room of chests and a bed. The floor is made of light blue carpets which took longer than they should have to complete.