Big Rock Thing! - CrewCraft Episode 36 (KYR Season 2)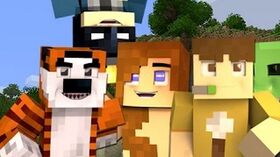 Big Rock Thing!
 was an episode of CrewCraft uploaded to KYR SP33DY's channel on the 25th September 2014. The episode features most members of the Crew and is the thirty sixth episode of Season 2. The episode features the crew continuing their adventure with some interruptions.
The Crew continue travelling to find a jungle biome whilst Hova plays with his iPhone 6. As night falls Speedy gets in to trouble with an Enderman and dies leaving him back at spawn. After a cut to Speedy returning to the point of death the adventure continues. Through a swamp and a birch Forrest the crew then finds themselves in an extreme hills biome, after more walking they get to the edge of the biome and facing a large ocean and some amazing cliffs and 'big rock things'. This is where the adventure ends. With Deluxe joining in the last minutes the crew discuss some random topics before ending the episode.