Adding New Things To The Pit With ShadowRedStone4Reason - CrewCraft Episode 32 (JW Season 2)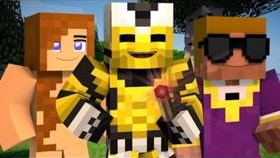 Adding New Things To The Pit With ShadowRedStone4Reason 
was an episode of CrewCraft uploaded to JahovaWitniss's channel on the 9th October 2014. The episode features some members of the crew and is the thirty second episode of season two. The episode involves the crew making progress on The Pit.
Jahova intros the episode and explains what they are building and what it's based off. SideArms acts up - as usual, Speedy and Hova build some parkour for the pit and Shadow makes the redstone. After some trial and error the redstone works out and the parkour course is completed. With all the present crew members completing it the episode is ended.
An advert for one of Hova's New T-Shirts apears at the end. The BruhCart Shirt based from Dino! #105.